You are currently browsing the category archive for the 'Euro 2012 Poland Ukraine' category.
Hi everyone,
Carlsberg is looking to ramp up the digital marketing activity around its sponsorship deals with Liverpool, Tottenham and Arsenal football clubs, after hailing the success of its Facebook and mobile campaigns during the Euro 2012 Championship.
Read the rest of this entry »
Hi everyone,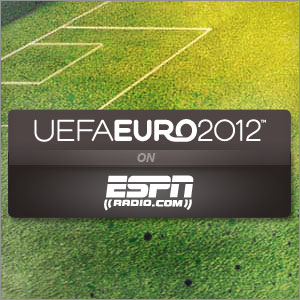 Euro 2012 is over and the event was watched, acclaimed and followed in the United States. Living in NYC, I noticed that although the timezone, the distance and the fact that soccer is not a traditional U.S sport, Euro 2012 received a heavy media presence.
Read the rest of this entry »
Hi everyone,

The EURO 2012 fever is on and official sponsor Castrol EDGE has announced its campaign to leverage its sponsorship of the UEFA Euro 2012, by combining technology and data analysis techniques to identify which players and teams will deliver a winning performance in Poland and Ukraine this summer.
Read the rest of this entry »
Hi guys,

We all remember the documentary Panorama aired one day before the nomination of the 2018-2022 World Cup hosts. Panorama strikes again and points out the blatant racism and antisemitism in football in the Euro2012 co-host countries. I often mention on this blog the lack or inefficient measures taken against racism by football governing bodies. This documentary illustrates my point.
Hi everyone,

Euro 2012 is one week away, and here's a quick review of the team sponsors visibility during the event. After a 100% adidas Champions League final, what does Euro 2012 tell us from a National Teams sponsorship perspective?
Hi everyone,

Nestle has unveiled a new augmented reality (AR) promotion on its Kit Kat wrappers that allows customers to play virtual football using their smartphone. By scanning the packaging with free AR app Blippar users can access the Euro 2012 table football game where they have to build a high score by saving as many shots as possible.
Read the rest of this entry »
Hi guys,

Today, adidas and Iker Casillas launched the official Tango 12 Finale, the matchball for the Euro 2012 final. Since the 2006 World Cup final, adidas launches a unique matchball for the final. A meaningful way to leverage its UEFA official matchball supplier marketing rights.
Read the rest of this entry »
Hi everyone,
Nike unveiled the Euro 2012 kits of its 5 qualified teams: Portugal, Holland, Croatia, Poland and France. Nike continues its sustainability efforts kicked off during World Cup 2010 by having each kit made of 13 recycled plastic bottles.
Read the rest of this entry »
Hi everyone,

I published on The Football Lounge a couple of articles about Al Jazeera strengthening its presence on the french football market. Al Jazeera has recently re-enforced its new-found position as the dominant force in football broadcasting in France by acquiring a major rights deal to cover UEFA Euro 2012 and 2016 alongside free-to-air channels TF1 and M6.
Read the rest of this entry »
Hi everyone,

UEFA, and its sponsor Orange, have unveiled the Official UEFA EURO 2012 mobile app, which will be available on eight mobile platform including iOS, Android, Windows phone, Blackberry, Bada and Java.
Hi guys,

Nike released the French Football Federation away kit for Euro 2012. After the "Mariniere" launched for Euro qualifiers, the Swoosh celebrates the french elegance with a white kit. Simple and fashionable. Take a look.
Hi everyone,

The German Football Association has unveiled the new away strip to be used in the Euro 2012 tournament. Between 1954 and 1998, Germany had always played in green away shirts, but lately they have changed to black, red, or a combination of both black and red.