You are currently browsing the tag archive for the 'ESPN' tag.
Hi everyone,

ESPN has acquired multimedia rights to football's NextGen Series, a six month European competition featuring the future stars of football.
Hi everyone,

A ranking caught my attention: The top football league attendance, updated August 20  2012. A very interesting piece put together by ESPN and worldfootball.net. Major key learning, the Major League Soccer is ahead of the French Ligue 1. This said, the ranking counts a whole season for the Ligue 1, when the MLS is still ongoing.
Read the rest of this entry »
Hi everyone,

ESPN continues to add to its lineup of live top-flight football with the acquisition of French Ligue 1 rights and renewals of its agreements to cover Italian Serie A, Eredivisie and the Russian Premier League. The agreements all include multimedia rights – across TV and digital media – in the UK and Ireland.
Read the rest of this entry »
Hi everyone,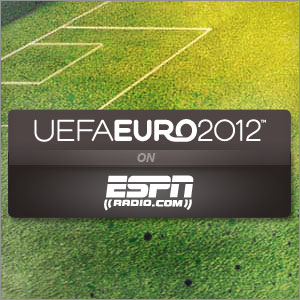 Euro 2012 is over and the event was watched, acclaimed and followed in the United States. Living in NYC, I noticed that although the timezone, the distance and the fact that soccer is not a traditional U.S sport, Euro 2012 received a heavy media presence.
Read the rest of this entry »
Hi everyone,

ESPN, Inc. this week will introduce ESPNFC, a new multi-language and multi-country brand for soccer fans around the world across TV, radio, print, online, print and mobile.  Just in time for the 2012 UEFA European Football Championship, the new offering will bring together all of ESPN's soccer properties and house them under one universally recognized name. 
Hi folks,

Apple is interested in bidding for the UK TV rights to the Premier League, says a report in The Daily Mail. The Premier League's live UK rights for 2010-13 raised £1.782bn when they were sold to Sky Sports and ESPN UK during the summer of 2009.
Hi all,

Eurosport has secured live television rights to the Fifa Club World Cup in 26 European countries, with ESPN taking the UK rights. Live broadcasts of all eight games will be available on Eurosport in France, where free-to-air channel NT1 will share coverage of the two semi-finals and the final, and on Eurosport 2 in 22 other European countries.
Read the rest of this entry »
Hi all,

Leading Premier League clubs should be able to negotiate individual overseas TV right deals – according to Liverpool's managing director, Ian Ayre. In an interview with the Guardian, Ayre is quoted as saying English sides could be left behind their European rivals if they continue to be tied down to a collective agreement – the latest of which expires in 2013.
Read the rest of this entry »
Hi everyone,

The FIFA Women's World Cup 2011 Germany from 26 June to 17 July is poised to mark a milestone in competitive women's football with unparalleled coverage on television in terms of both production and distribution.
The news underlines the huge strides the women's game has made in recent years, for the first time ever the FIFA broadcast production will comprise up to 18 cameras for selected matches, including in-goal cameras and two steadycams for all matches.
Read the rest of this entry »