You are currently browsing the tag archive for the 'Tottenham Hotspur' tag.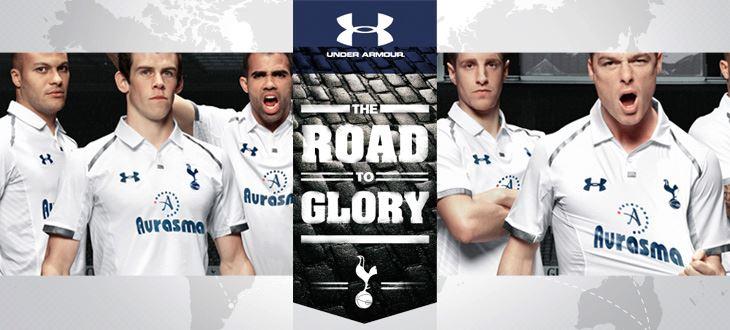 Hi guys,
Tottenham Hotspur and Under Armour launched their campaign Road to Glory to engage and challenge fans. The contest is to find and reward the most passionate Hotspur fans and reward the winning team with a VIP trip to London for Tottenham Hotspur's final match of the season against Sunderland on May 19 2013.
Read the rest of this entry »
Hi guys,

London Premier League club Tottenham Hotspur has signed a new licensing deal with U.S. online retailer Sports Endeavors to bring Spurs products to its growing U.S. fan base.
Read the rest of this entry »
Hi everyone,
Under Armour and Tottenham Hotspur Football Club today unveiled the Club's new home and away kits for the coming 2012/2013 Season. The new Tottenham Hotspur performance and apparel ranges are Under Armour's first kit supply agreement with a Barclays Premier League team and represents the brand's largest team sponsorship to date.
Hi guys,

English Premier League football club Tottenham Hotspur has announced a new three-year license with U.K.-based Forever Collectibles. Forever Collectibles will produce a wide range of gift, plush and souvenir products including glassware, stationery, accessories and luggage that will be distributed at high street and online retailers.
Read the rest of this entry »
Hi everyone,

I often point out Under Armour's effort to tap into football, and another example adds to the list. Under Armour announced a multiyear partnership with England international and Tottenham Hotspur Football Club First-Team defender Michael Dawson.
Read the rest of this entry »
Hi guys

Tottenham Hotspur are on a branding awareness spree. Indeed, their "Glory Glory" slogan is the Spurs' leitmotiv as  they embark on a major business rebranding. Great opportunity for Under Armour who will take over THFC from next season onwards.
Read the rest of this entry »
Hi all,

This week's top sponsorship stories are selected from I.Sportconnect, Sport Industry biz and World Football Insider. Enjoy the read and have a great week end!
Read the rest of this entry »
Hi all,

This year, the Premier League clubs have reached an astonishing amount of £99.75 million for their shirt sponsorship deals. This is a significant increase compared to last year's £71.8 million jersey sponsorship. World record for one league  (Barclays Premier League) for one season (2010-2011). The German Bundesliga was the record owner, as last year's german football shirts sponsorship deal was up to £98.7 million (keeping in mind the GBP to EUR exchange rate in April 2010).
Read the rest of this entry »
Hi all,

The FIFA delegation in charge of inspecting the 2018-2022 bidding nation sset sail to England for a 4 day inspection.  The inspection team, led by Harold Mayne-Nicholls, the president of Chilean Football Federation, and includes Danny Jordaan, the head of the organising committee for this year's World Cup in South Africa, arrived in London yesterday to begin its tour of venues and facilties. Read the rest of this entry »
Hello everyone,

New Friday article: The Top Football Sponsorship stories of the week. A compilation of the most interesting football sponsorship deals that happened during the week. Big thanks to the Sports Industry Group, and EU Football.biz!