You are currently browsing the tag archive for the 'Under Armour' tag.
Hi chaps,
My football marketing blog is 3 years old today! Thanks a million to all of you who read, interact, send emails, retweet, etc….I do enjoy blogging and hope I got you addicted to football marketing!
Read the rest of this entry »
Hi guys,

In January 2012 Warrior Sports officially announced its ground breaking deal with Liverpool FC starting in for the 2012/2013 season. The Boston based company replaced adidas and consequently signed its first major football deal. Warrior continues to break through the football clutter by signing Everton player Marouane Fellaini.
Read the rest of this entry »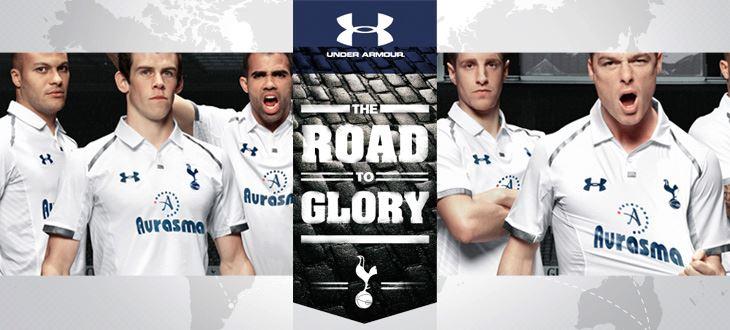 Hi guys,
Tottenham Hotspur and Under Armour launched their campaign Road to Glory to engage and challenge fans. The contest is to find and reward the most passionate Hotspur fans and reward the winning team with a VIP trip to London for Tottenham Hotspur's final match of the season against Sunderland on May 19 2013.
Read the rest of this entry »
Hi everyone,
Under Armour and Tottenham Hotspur Football Club today unveiled the Club's new home and away kits for the coming 2012/2013 Season. The new Tottenham Hotspur performance and apparel ranges are Under Armour's first kit supply agreement with a Barclays Premier League team and represents the brand's largest team sponsorship to date.
Hi everyone,

According to SPORT+MARKT, the combined value of English Premier League (EPL) kit deals has hit Eur109.7 million this season, making it the most lucrative market in European football for apparel contracts.
Read the rest of this entry »
Hi guys,

According to Sport Business, Under Armour has hired brand communications agency PrettyGreen as lead PR agency partner in the UK. PrettyGreen has been contracted to build awareness of the Under Armour brand, products and sponsorships within the UK for an undisclosed fee.
Read the rest of this entry »
Hi everyone,

I often point out Under Armour's effort to tap into football, and another example adds to the list. Under Armour announced a multiyear partnership with England international and Tottenham Hotspur Football Club First-Team defender Michael Dawson.
Read the rest of this entry »

Hi guys,
A lot happened in 2011 in the football marketing world. It's been a fantastic year with astonishing sponsorship activations, significant product launches, scandals and more. Here is a timeline of the main 2011 football marketing highlights. I wish you a fantastic year 2012!
Read the rest of this entry »
Hi everyone,

Tottenham Hotspur signed a deal with Baltimore based brand Under Armour. The American sportswear brand signs its first deal with an English Premier League club. Under Armour will take over from Puma at the start of the 2012-2013 season. The terms are reported to be $80 million over 5 years.
Read the rest of this entry »
Under Armour is a Global sportswear company that has built a leading brand name in the hi-tech athletic gear. Under Armour traditional focus has been on compression (tight fitting) performance attire, but with a strategic marketing approach has also begun to offer a wide variety of products in other sports such as Football.
In a highly competitive sport, Under Armour launched in 2006 its first American football boots and gained 20% of the market that year. The company is constantly growing. For the fiscal year 2009, net revenue grew 18.1% from 2008 to $856.4 million.
I am interviewing Blair Tripodi. He is the Under Armour International Marketing Director. Blair has an extensive marketing experience and worked for the US Olympic Committee for 6 years as Director NGB Marketing, Director of Consumer Products and Brand Marketing Director. He is at Under Armour since 2006 and I am getting his views on Under Armour expansion in football and ultimately how Under Armour can challenge the largest established football brands.