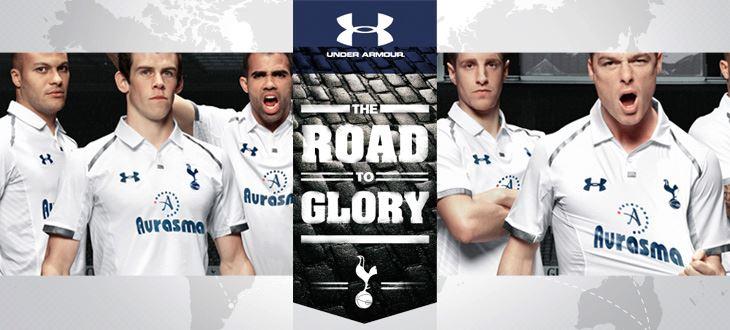 Hi guys,
Tottenham Hotspur and Under Armour launched their campaign Road to Glory to engage and challenge fans. The contest is to find and reward the most passionate Hotspur fans and reward the winning team with a VIP trip to London for Tottenham Hotspur's final match of the season against Sunderland on May 19 2013.

Tottenham and Under Armour inked last year a $80 million partnership deal over 5 years. The kits were launched under the campaign: To dare is to Do which marked Under Armour first significant sponsorship deal in football.
The Baltimore based company and the London club continue to share forces to engage fans and position their brand on a very competitive market: The Road to Glory is born which is the 2.0 version of the To dare is to do campaign.
What is it?
You are a fan? Prove your allegiance
So you support Tottenham Hotspur. But do you have what it takes to walk in the footsteps of legends? This is your opportunity to not just talk the talk, but walk the walk. To prove your allegiance. Under Armour and Spurs have crafted 11 Dares for teams to take in honour of our beloved Lilywhites. Each one inspired by a different Spurs event or moment of fandom.
The team that best displays its loyalty in completing these Dares will be rewarded with a prize so great, it could make a grown man cry. The winning team will be selected based upon the team's passion and loyalty to Tottenham Hotspur Football Club – the creativity and originality of content and the number of 12th Man Challenge Supporters.
How it works?
Official Supporters Clubs and newly formed teams of Spurs die-hards, may register. You will virtually travel the Road and be given a Dare at each stop along the way. Teams must complete each Dare in order.
To advance to the next Dare, teams must additionally complete the 12th man challenge by amassing a certain number of Supporters, as specified at each city.
Teams that complete all the Dares and travel the complete road will arrive at Tottenham and be eligible to compete for the grand prize. All dares must be completed by 9 January 2013. Glory glory Tottenham Hotspur!
Winners will be chosen based on the quality of content uploaded for each Dare, as well as the number of Supporters amassed. [Source: roadtoglory.underarmour.com]

It will be interesting to see how this campaign unfolds. THFC are the first significant football investment for Under Armour and they (UA) are taking a very smart and engageful brand positioning. The Spurs have a strong fan base in the UK and Under Armour is also engaging the Spurs global fan base.
Karl Lusbec